Philadelphia Eagles fans learn to boo before they learn to cheer, and it seems they've done some booing with the re-signing of last year's starting quarterback Sam Bradford.
Fans have a reason to be skeptical of the decision, as he played in 14 games going 7-7 (Mark Sanchez finished out the 20-19 loss to the Miami Dolphins in week 10) and throwing 19 TDs to 14 INTs. Plus, he was a product of the failed experiment of former head coach Chip Kelly as general manager.
Philadelphia overall finished 7-9 on the season.
Bradford's has a career record of 25-37-1 as a starting quarterback and has a history of not playing a full season, playing only 63 out of 96 possible games since being drafted number one overall by the St. Louis (now Los Angeles) Rams in 2010.
Still, while fans may be groaning at the thought of Bradford being back for at the most two more seasons, there is still reason to be optimistic about the transactions.
Yes, he showed significant improvement in the second half of the season throwing 10 TDs to only 4 INTs, but let's look at what's coming up that could help him.
A system he's more familiar with
Entering his seventh season in the NFL, Bradford will be playing under his fifth different offensive system, but it's one he's more familiar with.
New Eagles head coach Doug Pederson is bringing with him a West Coast style offense, similar to what Bradford played under in his rookie season under former Eagles offensive coordinator Pat Shurmer.
While his numbers weren't magical (3,512 yards; 18 TDs, 15 INTs, and a 76.5 PR) he earned Rookie of the Year honors and almost led the Rams to a division title in a then-weak NFC West division.
While he excelled in different systems after that throwing a combined  41 TDs to 23 INTs, before back-to-back ACL injuries derailed his career for the Rams, Bradford has shown that he can move the ball in a West Coast style offense.
The Chip Kelly offense didn't give him the time to read defenses and make adjustments at the line of scrimmage. It was snap the ball, get up to the line and snap the ball again all in under 20 seconds.
With this new system, Bradford can take his time and read what the defenses give him before making a decision.
Offensive weapons at his disposal
The Eagles were very active this offseason, signing key offensive playmakers to extensions in their tight ends Zach Ertz and Brent Celek.
Ertz caught only two TDs but hauled in 75 catches for 853 yard, while Celek has been more of a run blocking tight end, something he said he sometimes prefers doing more than running out and catching.
Third-year wide receiver Jordan Matthews will hopefully improve on his nine TDs and 997 receiving yards and make up for all of those drops he had. Josh Huff, another third-year wideout can help too, so long as he can take more than three steps without fumbling the ball.
Second-year wide receiver Nelson Agholor battled an ankle injury much of last season, hauling in only one TD, so he will hopefully become the threat Philly needs him to be.
The jury is still out on running back DeMarco Murray and whether he will be back as the team is reportedly listening to trade offers.
The offensive line deserves a fair share of blame for Bradford, and Murray's poor play (but Murray running left and right instead of forward was Chip Kelly's dumb fault), as left tackle Jason Peters was playing injured much of last season and both guard positions were the weak spots of the interior line. Those concerns will hopefully be addressed in the draft.
Speaking of the draft…
Eagles may still take a QB
Don't be fooled by thinking the Eagles are content with Bradford. He only signed a 2-year, $36 million deal, and if he tanks in 2016 due to injury or terrible play the Eagles can cut ties with him in 2017.
Philadelphia holds the 13th overall pick in the 2016 draft, and some are speculating that if Memphis QB Paxton Lynch is there the Eagles will grab him.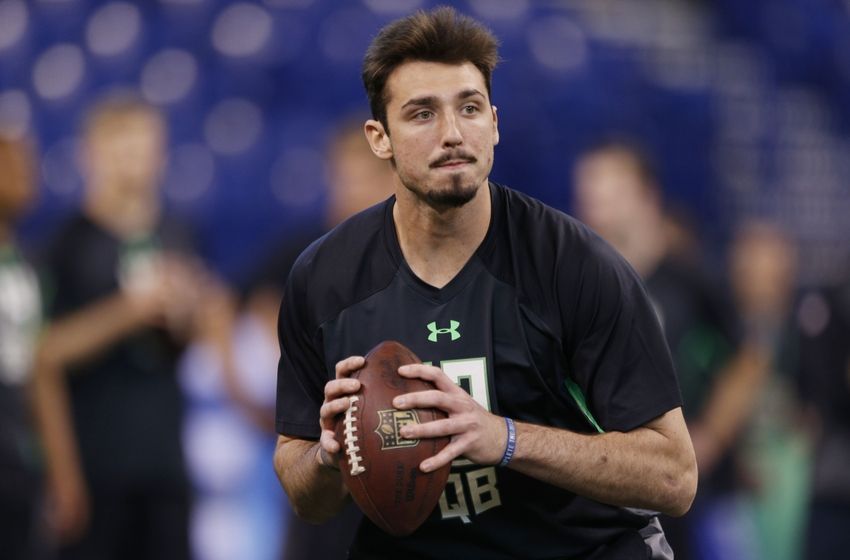 Pederson has said that if he does draft a QB, he will not throw him into the starting position as a rookie and will make him sit for a season or two.
Should Lynch become an Eagle, it gives him ample time to learn behind Bradford. Who knows? Maybe Bradford will exceed expectations and be an Eagle until he retires?
Doubtful.
But, if Lynch is drafted by Philly then the Bradford deal still looks smart by the team.
Honestly, would Eagles fan rather Mark Sanchez or Chase Daniel starting week one while Lynch sits?
No? Didn't think so.
Building for the future with the present
Chip Kelly did not believe his Eagles roster at the conclusion of the 2014 season (where the Eagles finished 10-6 after being 9-3) was good enough. So, rather than continuing with the talent he had, he jettisoned some of his best players such as LeSean McCoy, Nick Foles, Jeremy Maclin, Brandon Boykin and DeSean Jackson the season before and brought in new guys like Kiko Alonso, Ryan Mathews, Byron Maxwell, Murray and Bradford.
Kelly obviously did not do his research on the 2011 "Dream Team" where Philly brought in names like Vince Young, Cullen Jenkins, Jason Babin, Dominique Rogers-Cromartie and Nnamdi Asomugha to try to build a winning team with pieces that didn't fit.
The Eagles went a combined 12-20 in 2011 and 2012.
Sticking with your best playmakers and seeing what they can do is the smart decision. Now, it's all up to Pederson to make it work.
Will Bradford be the QB to get Philadelphia over the hump to a Super Bowl title? Probably not, but at least he can hold the fort down for now.