Dallas Cowboys' quarterback Tony Romo ended an offseason of speculation amongst analysts and fans by deciding to hang up his jersey in favor of a sports coat.
The soon-to-be 37-year-old announced he's trading in the football life to go into the broadcasting world, and will join Jim Nantz as the number one announce team on CBS, replacing Phil Simms (thank God!)
Romo had a career of ups and downs and was often the target of many of the Cowboys' problems over his 14 year career, whether the blame was deserved or not.
Despite his many downs, he had plenty of ups, and currently holds just about all of the Cowboys' passing records in touchdown passes (254), passing yards (34,942), fourth quarter comebacks/game-winning drives (28), and consecutive games with a touchdown pass (38 between from 2012-2014).
Despite these numbers, Romo I feel will not be seeing his name called in Canton, and here are some reasons why.
Playoff Record Doesn't Scream "Canton Bound"

(Photo Credit: CBS Sports)
When Romo replaced former NFL quarterback Drew Bledsoe midway through the 2006 season, he managed to rally the troops in time for a late season wild card berth.
From there, the playoffs would be his downfall.
The Cowboys were eliminated in the '06 Wild Card Round thanks to Romo fumbling the snap on what would have been the game-winning field goal. In 2007, he led the team to a 13-3 record and the number one seed in the NFC, only to be beaten by the eventual Super Bowl Champion New York Giants thanks to a late-game interception.
The Cowboys missed the playoffs in 2008 after losing a "win or go home" game in week 17 against the Philadelphia Eagles, but Romo would get his revenge in 2009 when the Cowboys beat the Eagles in the Wild Card Round. They would then lose to the Minnesota Vikings in the Divisional Round.
Dallas would miss the playoffs in 2010, 2011, 2012 and 2013 before beating the Detroit Lions in the 2014 wild card game thanks to a blown pass interference call by the officials. The Cowboys lost to Green Bay the following week in the Divisional Round.

(Photo Credit: zimbio.com
All in all, Romo finished his career with a 2-4 playoff record and never even sniffed a conference title game.
Two playoff wins in 11 seasons as a starter doesn't say you're Hall of Fame worthy.
Injuries Came More Often Than Not

(Photo Credit: ftw.usatoday)
During his 11-year career as a starter, Romo only played a full 16-game schedule four times. (2006 doesn't count because he came in week eight of that season after serving as a backup.)
He missed three games in 2008 with an injury, 10 games in 2010 with a broken collarbone, one game in 2013 with a back injury, 12 games in 2015 with two collarbone injuries and then all of 2016 with a back injury.
Yes, Hall of Fame quarterbacks have missed games with injury, but not as frequently as Romo.
You can't exactly put up Canton-worthy numbers and wins if you're spending more time in the trainers room than on the field.
Most Wins Weren't Big Enough

(Photo Credit: espn.com)
When I think of milestone wins for quarterbacks, some of them come from the Super Bowl. But, since Romo never played in a Super Bowl, I have to think of playoff or regular season games under that category for him.
Unfortunately, there aren't many.
I can think of two off the top of my head – both against the Eagles in 2009 when the Cowboys beat them in the regular season finale to win the NFC East and then again in the Wild Card Round for the team's first playoff victory since the 1995 season.
After that, there isn't much else.
Romo failed in 2008, 2011 and 2012 to take the Cowboys to the playoffs in "win or go home" situations, the kind of situations guys like Tom Brady, Aaron Rodgers, Russell Wilson and Ben Roethlisberger thrive in.
If you can't perform in the clutch, you can't go to Canton.
Analysis
Personal bias aside, Romo was a good quarterback.
He did enough to win some division titles and close games, but when it was all on the line he rarely found himself on the winning end.
If there's a Hall of Very Good, Romo will lead that class five years from now.
Unfortunately, there isn't, but even though he won't be wearing a gold jacket in the future, his new CBS one looks just fine.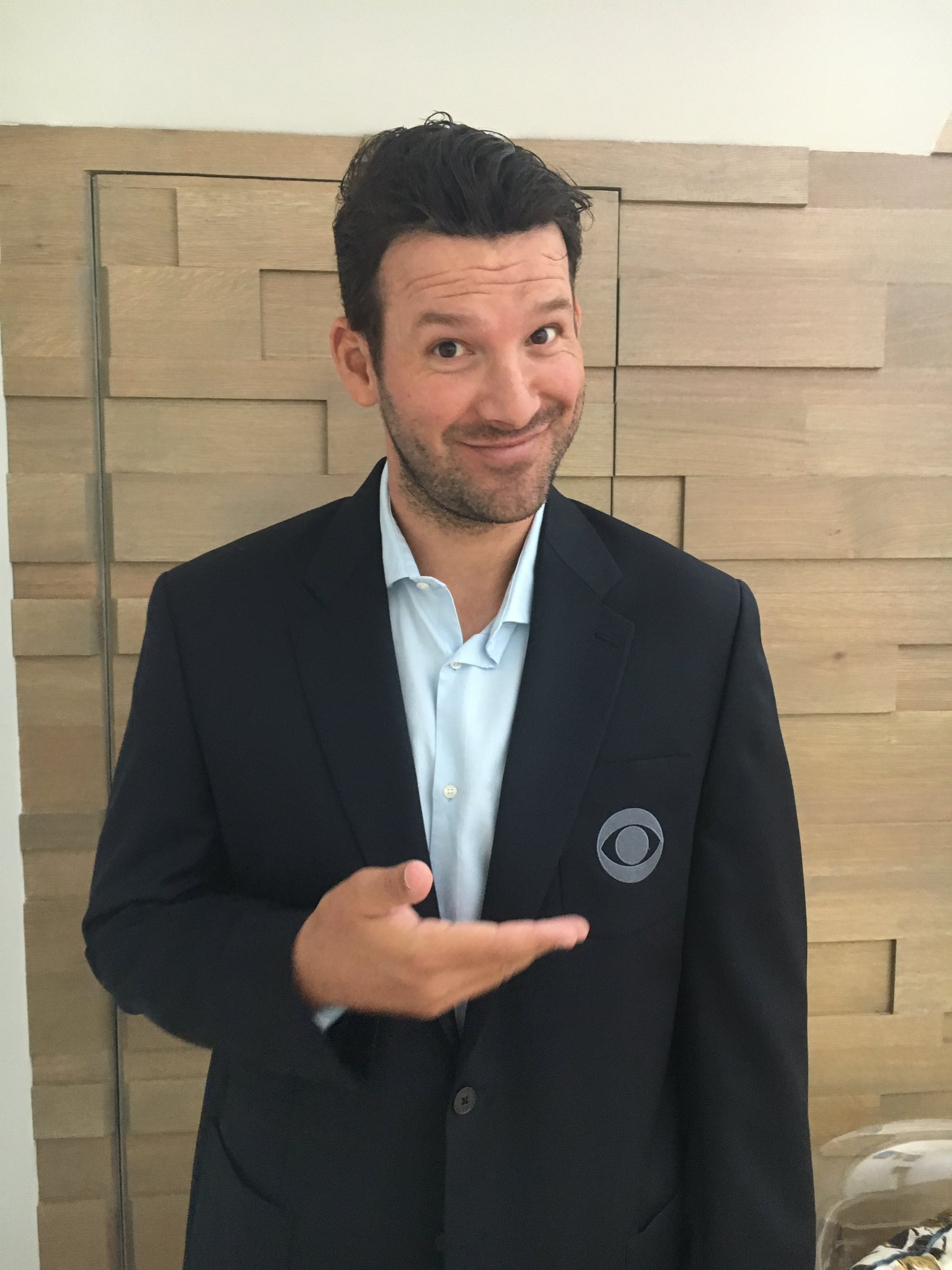 (Photo Credit: Tony Romo's Twitter Account)
And if broadcasting doesn't work out for him, he always has a future in acting because I will forever love this commercial.