An exciting first round of NFL Draft action has come and gone!
There were exciting trades, one laughable trade, some out of the ball park selections and a raucous Philadelphia crowd made it that much more exciting.
I'm going to recap the first round and give my personal take on each pick.
Also, unlike last year, we won't be doing a full draft recap. That shit takes way too long. God bless those who do recap all seven rounds, but at least they get paid to do it.
I'm doing this for fun!
Anyways, here we go!

(Photo Credit: sportingnews.com)
1. Myles Garrett, DE, Texas A&M – Cleveland Browns
After some speculation as to who the Browns would take first overall, I don't think anybody was buying that they would be drafting Mitchell Trubisky over Garrett. It's still unclear who Cleveland will be starting at QB in 2017, but with a decent running back, some young receivers and 10 more picks left to go in the draft (for now) the team was looking to address the other side of the ball. Garrett is a solid pick and should be a threat to a division with three opposing Pro Bowl quarterbacks.

(Photo Credit: mmqb.si.com)
2. Mitchell Trubisky, QB, North Carolina – Chicago Bears
The first trade in the draft came in within the first three picks as the San Francisco 49ers essentially switched places and the 9ers also getting a 2017 third-round pick (#67), fourth-round pick (#111) and a 2018 third-round pick. Trubisky was a shock as many people expected a defensive player, and the Bears fans on the screen weren't all that pleased either. With Glennon not exactly being the best option either, the jury is still out on whether Trubisky is an upgrade, so we'll see how this goes. Poor Bears fans.

(Photo Credit: panthers.com)
3. Solomon Thomas, DE, Stanford – San Francisco 49ers
Two out of the first three picks are D-Ends, as both struggling franchises in the 9ers and Browns are thinking the same thing – defense wins games. Give credit to General Manager John Lynch as the 9ers essentially stole three extra picks in the draft from the Bears when they knew all along they were going to be drafting Thomas. This franchise might have a bright future under Lynch after all if he can keep making moves like that.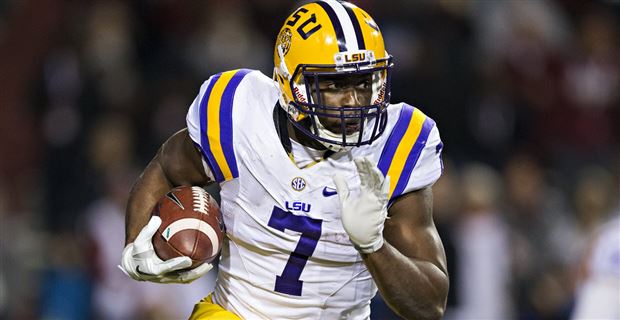 (Photo Credit: 247sports.com)
4. Leonard Fournette, RB, LSU – Jacksonville Jaguars
A big, physical back to go along with the physicality the AFC South brings. The Jaguars have the pieces in place for a dangerous offense, but we all thought that last season and we saw what happened. This pick should help Blake Bortles tremendously and take some pressure off him. Depending on what else happens, maybe the AFC will be for real this year?

(Photo Credit: cbssports.com)
5. Corey Davis, WR, Western Michigan – Tennessee Titans
Marcus Mariota finally has someone to throw to! In 2016, Davis had 97 catches and 19 TDs, tied for most in 2016. He'll be a good threat for Mariota against stingy defenses in Indianapolis and Jacksonville, but I can also see him giving the Texans some fits, too. The Titans are definitely getting poised to compete for a division title this year.

(Photo Credit: mmqb.si.com)
6. Jamal Adams, S, LSU – New York Jets
A bit of an interesting pick here as I was sure they would be going offense. A lot of people  aren't giving the Jets any chance this season, some going as far to say they're a one-win team. But, with the Dolphins having a good receiving corp, the Patriots (unnecessarily) upgrading their reaching corp, the J-E-T-S Jets Jets Jets are going to need someone deep to cover those speedy receivers.

(Photo Credit: thestate.com)
7. Mike Williams, WR, Clemson – Los Angeles Chargers
With not many guys to throw to, Philip Rivers gets a solid weapon in Williams to challenge the Broncos's and Chiefs's defensive backs. Williams had a hell of a National Championship game against Alabama this season, especially on the final drive which shows that if you need someone to show up in the clutch, just throw it up to the kid.

(Photo Credit: footballscoop.com
8. Christian McCaffrey, RB, Stanford – Carolina Panthers
The Panthers get a solid, all round, explosive running back to make that already dangerous offense just about deadly. Johnathan Stewart should still be the lead back in Carolina, but McCaffrey can be used in punt returns, kick returns and third and long situations to pick up yards in the screen game. When Stewart retires, it'll be McCaffrey's team.

(Photo Credit: si.com)
9. John Ross, WR, Washington – Cincinnati Bengals
The man to run the fastest 40-yard dash in the combine, Ross will now be looking to outrun defenders in the AFC North. I'm shocked the Bengals didn't go defense here to compete with that dangerous Steelers offense and that up-and-coming Browns team. Ross has a history of injuries, and playing the bruising AFC North won't help matters. Still, we saw what happened last season when the team lost Mohamad Sanu and failed to replace him and compliment A.J. Green.

(Photo Credit: chiefs.com)
10. Patrick Mahomes II, QB, Texas Tech – Kansas City Chiefs
After a trade with the Buffalo Bills, the Chiefs gave up their 2017 first-round pick (#27), their 2017 third-round pick (#91) and their first-round pick next year to move up and get their guy in Patrick Mahomes II. Andy Reid waited in 2012 for Russell Wilson to fall in his lap and it backfired, so he wasn't playing games this year in getting an understudy for Alex Smith.

(Photo Credit: elevenwarriors.com)
11. Marshon Lattimore, CB, Ohio State – New Orleans Saints
A team in desperate need of defense, the Saints addressed their biggest concern with their secondary by drafting the best cornerback in the draft. Against quarterbacks like Matt Ryan, Cam Newton and Jameis Winston throwing to receivers like DeSean Jackson, Mike Evans, Julio Jones and Kelvin Benjamin, New Orleans got a good pick.

(Photo Credit: sportingnews.com)
12. DeShaun Watson, QB, Clemson – Houston Texans
The third trade of the first round saw the Texans jump up to grab a needed quarterback in DeShaun Watson after the whole Tony Romo thing didn't play out. In the trade, the Browns get the Texans's 2017 first-round pick (#25) and their 2018 first-round pick. Watson should be given the reigns right away, or will at least compete with Tom Savage for the starting gig.

(Photo Credit: si.com)
13. Haason Reddick, LB, Temple- Arizona Cardinals
A team with an already strong defense got stronger with a hometown guy, as the team chose not to reach to fill an immediate need at wide receiver or quarterback to prepare for the inevitable retirements of Larry Fitzgerald and Carson Palmer. In a division stacked with defensive talent, the Cardinals are looking to keep the pace and punch back just as hard.

(Photo Credit: cbssports.com)
14. Derek Barnett, DE, Tennessee – Philadelphia Eagles
Well, in a draft that is deep with talent at the cornerback position, which is the Eagles's biggest need, the team elected to take the guy who broke Reggie White's all-time college sack record. The team elected to go with his the position early, despite already have four D-Ends on the team, but only Brandon Graham is a sure lock to be a good player.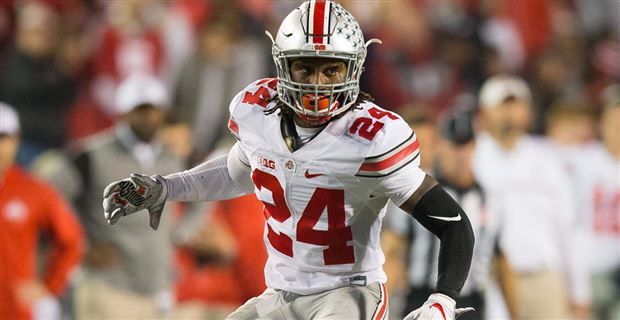 (Photo Credit: 247sports.com)
15. Malik Hooker, S, Ohio State – Indianapolis Colts
Defense has been a weakness on the Colts for years, and it looks like they might finally be addressing those needs. Ohio State appears to be this year's Defensive Back University, and Hooker should provide the over-the-top help needed to prevent those big plays they often give up.

(Photo Credit: insidethestar.com)
16. Marlon Humphrey, CB, Alabama – Baltimore Ravens
With the best receivers off the board, the Ravens elected to address another concern they had. Humphrey should be a solid addition to a team known mostly for defense and he'll be needed to cover AJ Green, Antonion Brown and Corey Colman.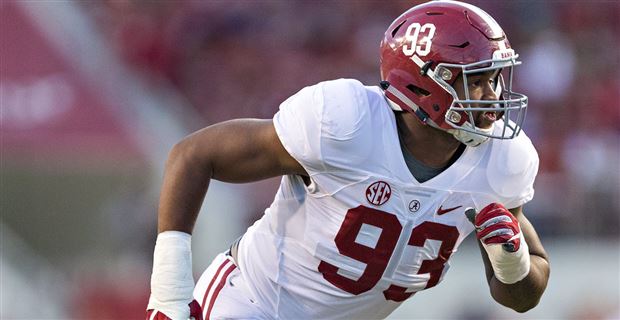 (Photo Credit: 247sports.com)
17. Jonathan Allen, DE, Alabama – Washington Redskins
Washington selected, arguably, the best defensive end in the draft and he'll provide some much needed pass rush to compliment Ryan Kerrigan. The NFC East as a whole has improved in the trenches, so Washington is trying to keep up with the pace.

(Photo Credit: fanragsports.com)
18. Adoree' Jackson, CB, USC – Tennessee Titans
Back in the first-round, the Titans addressed the other side of the ball after nailing a wide receiver early. Two first-round picks, two good selections.  Titans will definitely be contending this season.

(Photo Credit: giantswire.usatoday.com
19. O.J. Howard, TE, Alabama – Tampa Bay Buccaneers
So, in one draft pick the Bucs went from scary, to down-right terrifying. Jameis Winston now has a plethora of weapons to play with in Doug Martin, Mike Evans, DeSean Jackson, and now the best tight end in the draft in O.J. Howard. Howard will be more or a receiving tight end, but he's a great yards after the catch receiver, so Tampa Bay should have no problems with him in the redzone.
(Photo Credit: scout.com)
20. Garrett Bolles, T, Utah – Denver Broncos
Bolles is 25-years-old, but Denver needed an offensive linemen and he was the best graded on their draft board. He should be an immediate starter at left tackle, but the question is who will be be protecting – Trevor Siemian, or Paxton Lynch?

(Photo Credit: floridagators.com)
21. Jarrad Davis, LB, Florida – Detroit Lions
Good pick as the Lions were in desperate need of a linebacker. Davis will have some good offensive competition to go up against in the NFC North, and should make an immediate impact on a team that already has some decent defensive talent.

(Photo Credit: columbiamissourian.com)
22. Charles Harris, DE, Missouri – Miami Dolphins
The Dolphins were in desperate need of a pass rusher, and they got a skilled guy in Harris who will be lining with Ndamukong Suh and Cameron Wake. The Dolphins are set on offense, so defense was definitely a hole that needed filling.

(Photo Credit: si.com)
23. Evan Engram, TE, Ole Miss- New York Giants
Another team whose offense went from scary to terrifying, Eli Manning has another toy to play with as tight end was a need. Ingram is a good pass option to throw to in the check down and still manage to pick up several yards.

(Photo Credit: elenewarriors.com)
24. Gareon Conley, CB, Ohio State – Oakland Raiders
Another first-round shocker as nobody knew what to make of Conley due to his recent rape accusations. While others teams passed on him as more information was being gathered, the Raiders skipped that part and brought in, who many believe to be, the second-best corner in the draft. He'll aid a defense in need of weapons.

(Photo Credit: host.madison.com)
25. Jabril Peppers, SS, Michigan – Cleveland Browns
Sticking with defense, the Browns appear to be all in on Brock Osweiler or Cody Kessler this year as they go with safety/linebacker hybrid Jabril Peppers, whom many experts don't believe is as good as some say he is. I say bull! If you're skilled enough to pay two positions, you've got some talent to ya! It'll be interesting to see how the Browns use him. Peppers will definitely be fun to watch this season.

(Photo Credit: zimbio.com)
26. Takkarist McKinley, LB, UCLA – Atlanta Falcons
Another edge rusher to go with Vic Beasley and Dwight Freeney, McKinley will be a good addition to a team that had more defensive needs than offensive needs as the Falcons traded up with the Seattle Seahawk. I don't expect him to be much of an impact player, as Beasley is still the man on that defense. But, then again, if teams prepare for Beasley, that leaves McKinley wide open to make a statement. Also, it was funny when he said the F-word on live TV. Goodell probably has the paperwork all ready to go to fine him.

(Photo Credit: eagleswire.usatoday.com)
27. Tre'Davious White, CB, LSU – Buffalo Bills
I'm really surprised the Bills didn't address the wide receiver position. This had to have been a case of taking the best player available. Yes, cornerback was a need, but the offense is in more need to weapons than the defense at this point.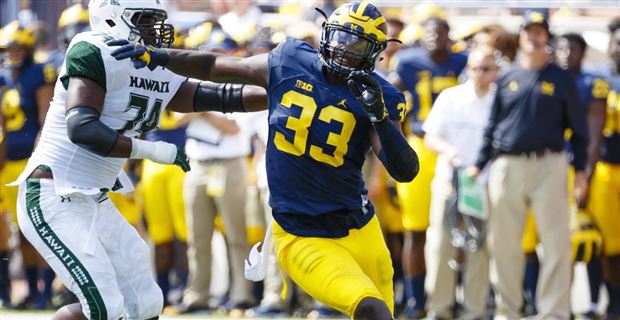 (Photo Credit: 247sports.com)
28. Taco Charlton, DE, Michigan – Dallas Cowboys
Taco. Ha ha! Sorry, back to serious business. The Cowboys needed a rusher, but with more members of the secondary gone on this squad, it was surprising they didn't take the best safety or cornerback available. Much like some of the other teams, due to the endless pool of talent in the secondary this draft offers, this must've been a case of taking care of one need now while that area shrinks in the draft.

(Photo Credit: fanragsports.com)
29. David Njoku, TE, Miami – Cleveland Browns
Just when you thought they were done, the Browns come right back for a third first-round pick in a trade with the Green Bay Packers. With some decent receivers already on the team, they went tight end to help give Kessler (or Osweiler) another weapon to throw to. With several more picks to come in this draft for Cleveland, they may be onto something special here.

(Photo Credit: mmqb.si.com)
30. T.J. Watt, LB, Wisconsin – Pittsburgh Steelers
The Steelers needed defensive help, and they got it. Aside from Ryan Shazier and the ageless wonder James Harrison, the Steelers needed another member of the linebacking group to provide big hits, cover in the flat and stuff the run. J.J. Watt is the superior brother, but being on a successful franchise like the Steelers will hopefully do wonders for the youngest Watt brother.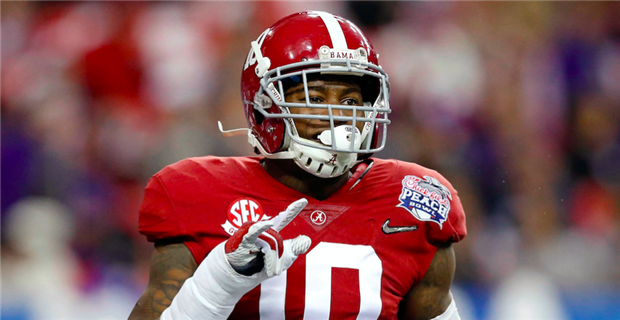 (Photo Credit: 247sports.com)
31. Reuben Foster, LB, Alabama – San Francisco 49ers
John Lynch is a brilliant man, executing a trade with the Seahawks who gave them the pick they received from the Atlanta Falcons. Foster was probably the highest rated linebacker in the draft, but shoulder injuries had GMs concerned, but not Lynch. The 49ers are clearly in rebuilding mode, but with a good free agency class and an already good draft for the first-time GM, this process may not take long at all.

(Photo Credit: colts.com)
32. Ryan Ramczyk, OT, Wisconsin – New Orleans Saints
The Saints elected to go offensive line here, which I'm not sure why. They're o-line isn't a big need, and if anything they could have used someone on defense, or even wide receiver to replace Brandin Cooks.